I recently had an opportunity to go race in Korea as an invitational international athlete for the 2017 SPYDER BUKAK CLIMB CHAMPIONSHIP, which was held in Seoul, Korea. My friend Derek (right in the above picture) lives in Korea and is actively involved in the cycling racing community. When he told me about this opportunity, I didn't hesitate to apply. The catch was that they were looking for high level riders who were not currently pro. Luckily, I fit right into this category. In total, 3 international riders were chosen from other countries to come and compete in the non-pro Men's open race: Myself (Cruise Bogedin USA living in Japan), Chris Uberti (USA), and Andrew Solomon (Australia).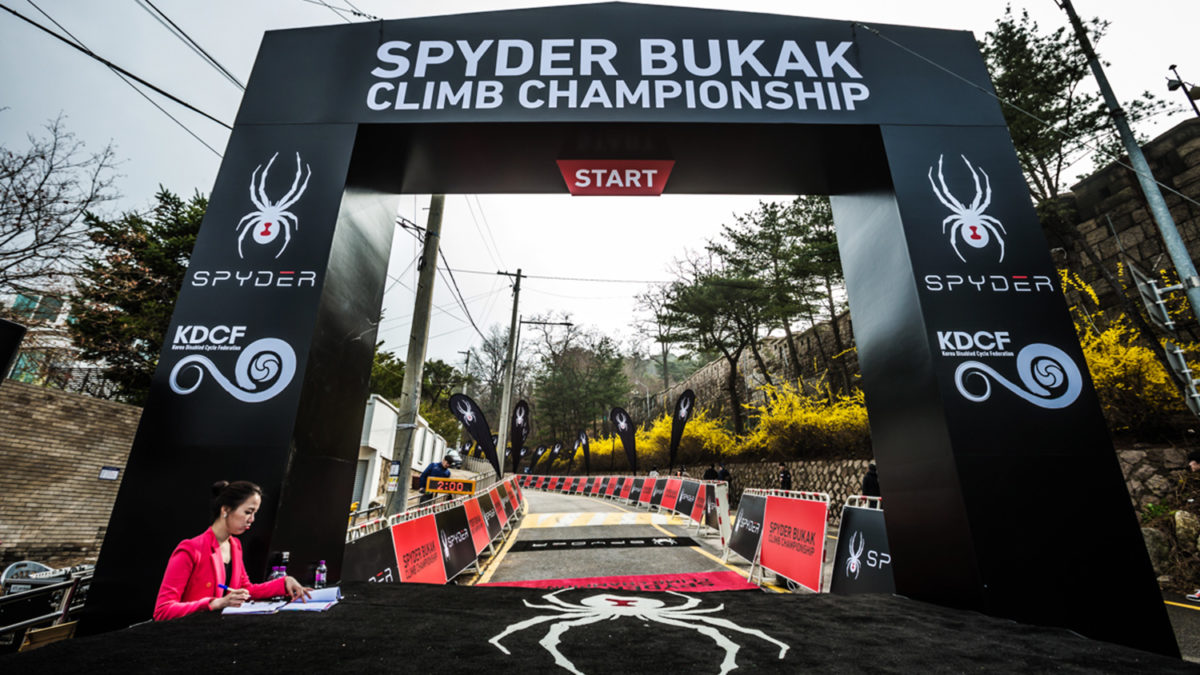 SPYDER BUKAK Race Day
The race format was a hill climb done in similar fashion to 4-cross. Groups of 4 riders would start together, and the 4 riders with the overall fastest times would qualify for the final heat, which was where all of the prize money was. Normally, I am more of a sprinter and not so much a hill climb kind of rider, but I can usually do pretty well on climbs up to about 5 minutes. Looking at previous times from this race, a winning time was a low 6 minute, so I felt that there was still a chance for me to do somewhat well.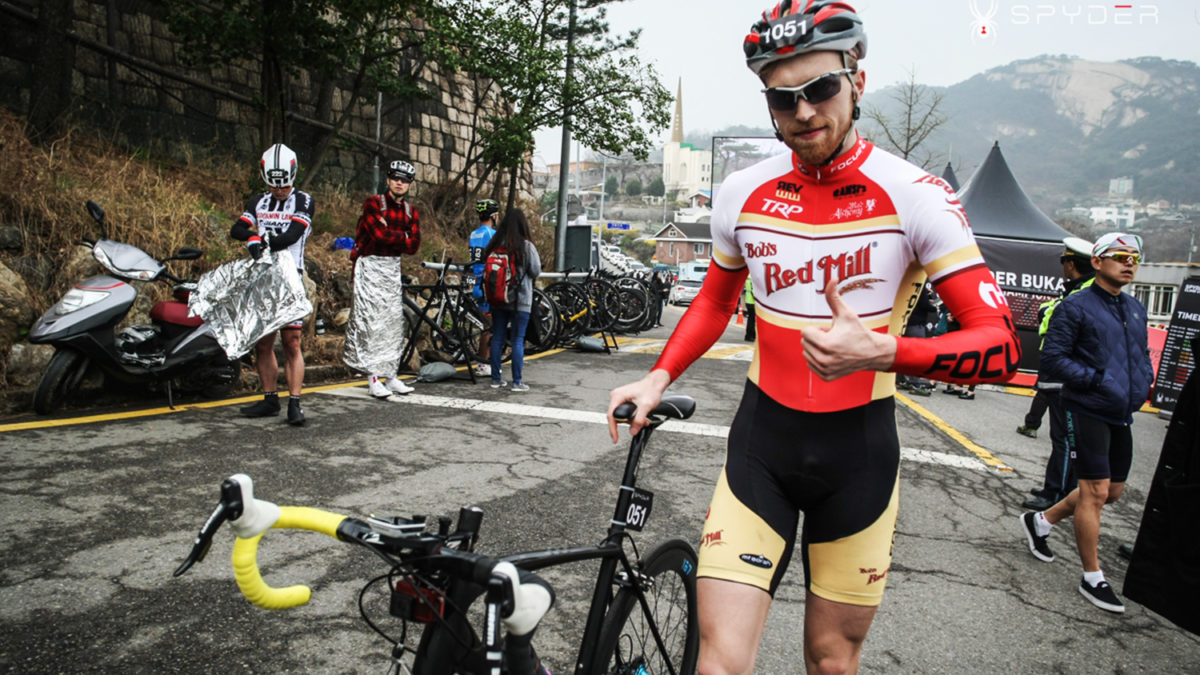 I was very impressed at how professionally this race was put together. From the glass racer sign in board, to the starting stage, to the portable restroom playing classical music, to the live results board, everything was just overall very smooth and well thought out and put together, which was great to see.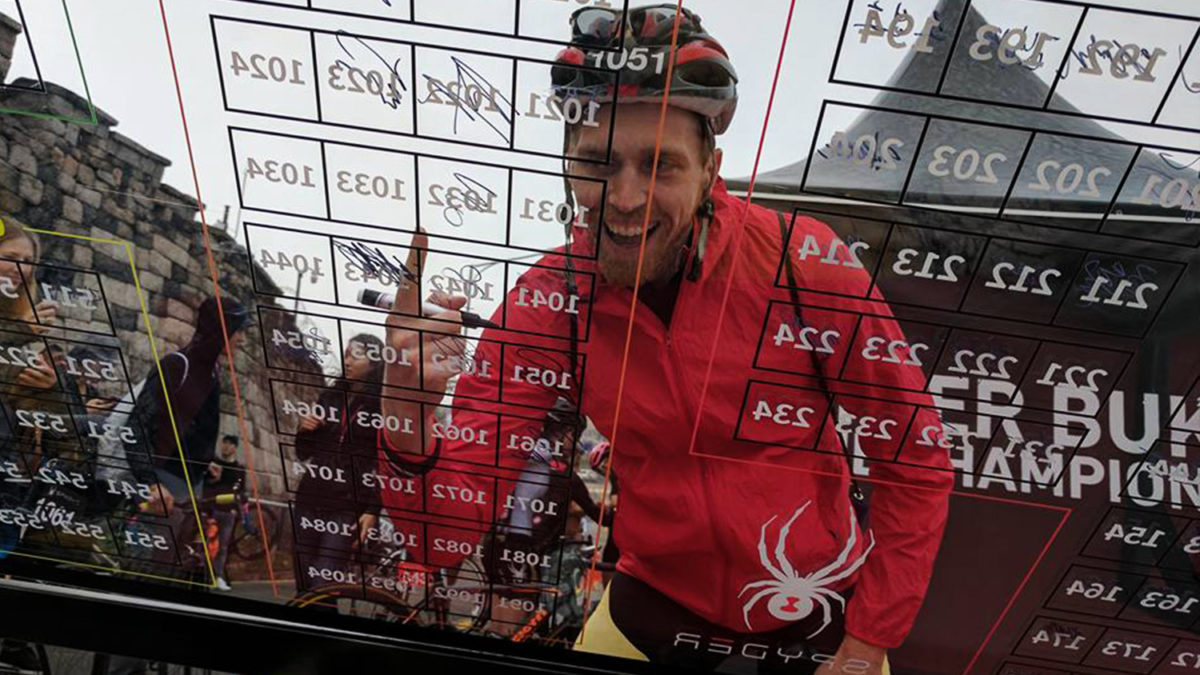 I particularly enjoyed this rider sign in board made from glass. I've signed numerous rider sign in boards before, but this was definitely my first time doing it on a glass one! Fancy!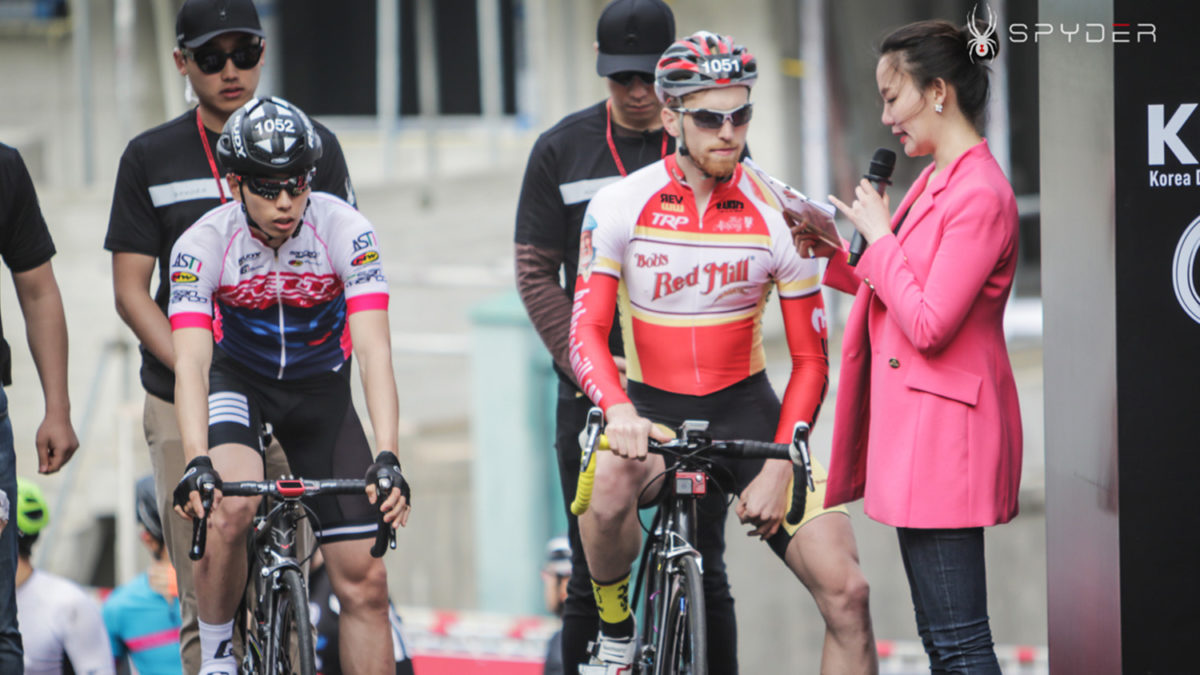 Right before the start of my heat, they conducted a mini interview with me about my cycling history, which was apparently broadcast live in Korea (which my other friend in Korea just so happened to watch).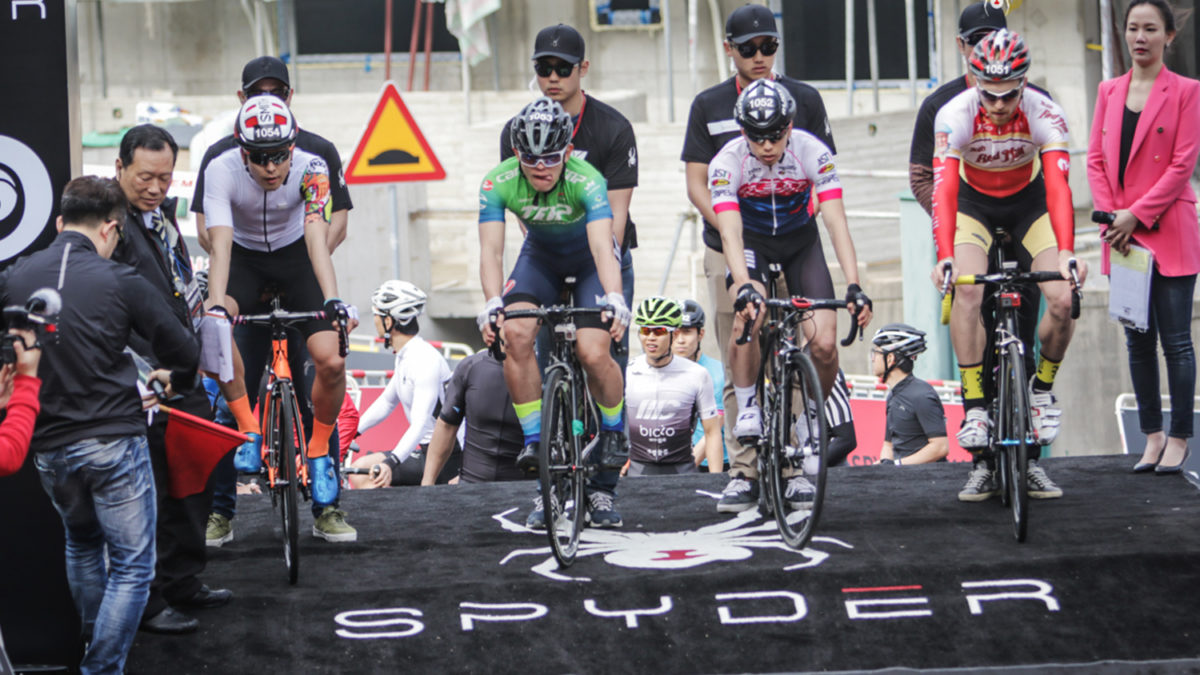 My heat finally was underway! Derek told me that the guy in green was the winner from the previous year and to just follow him. My strategy was to just try and sit on and save energy for the first half, and then see if I had anything left for the finish. Luckily, the pace wasn't too bad for the first half and I was feeling confident I could sprint out the second half of the climb. Unfortunately, when the guy in green started his attack, the other rider in between us did not react, so my chase was a bit delayed and I wasn't able to catch him before the finish line.
I ended up with a time of 6:48, which put me in 5th place overall.. Which was one spot out of the final round, the podium, and the money.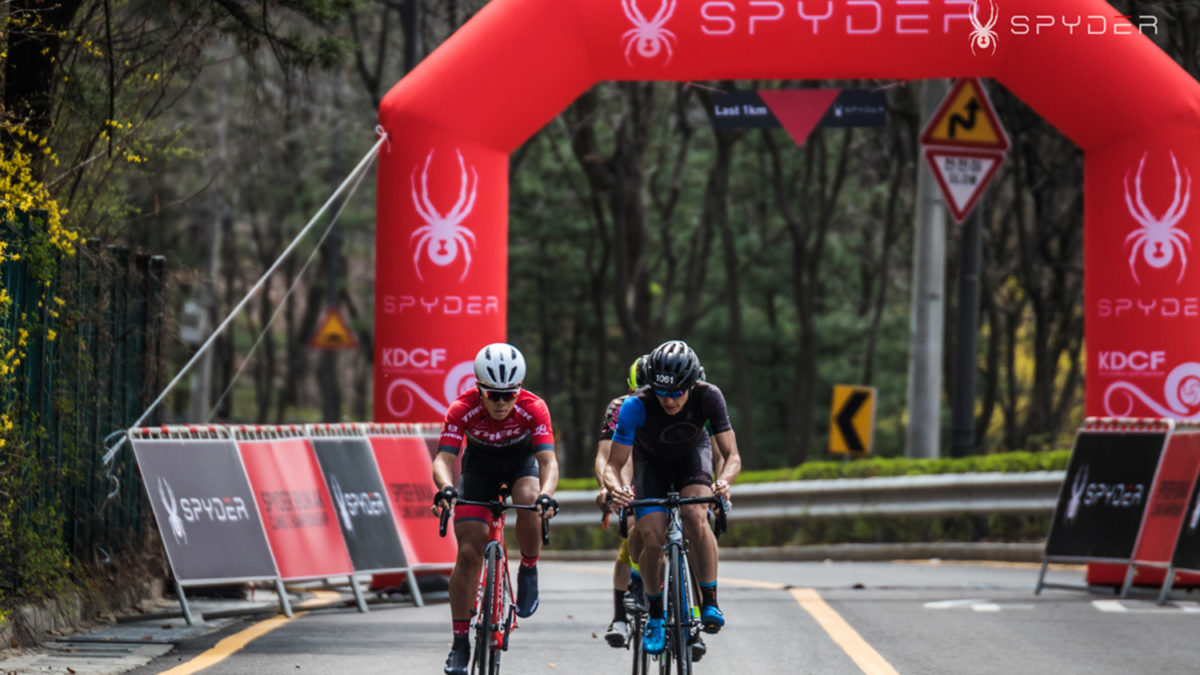 Chris Uburti ended up having the fastest qualifier time with a 6:17.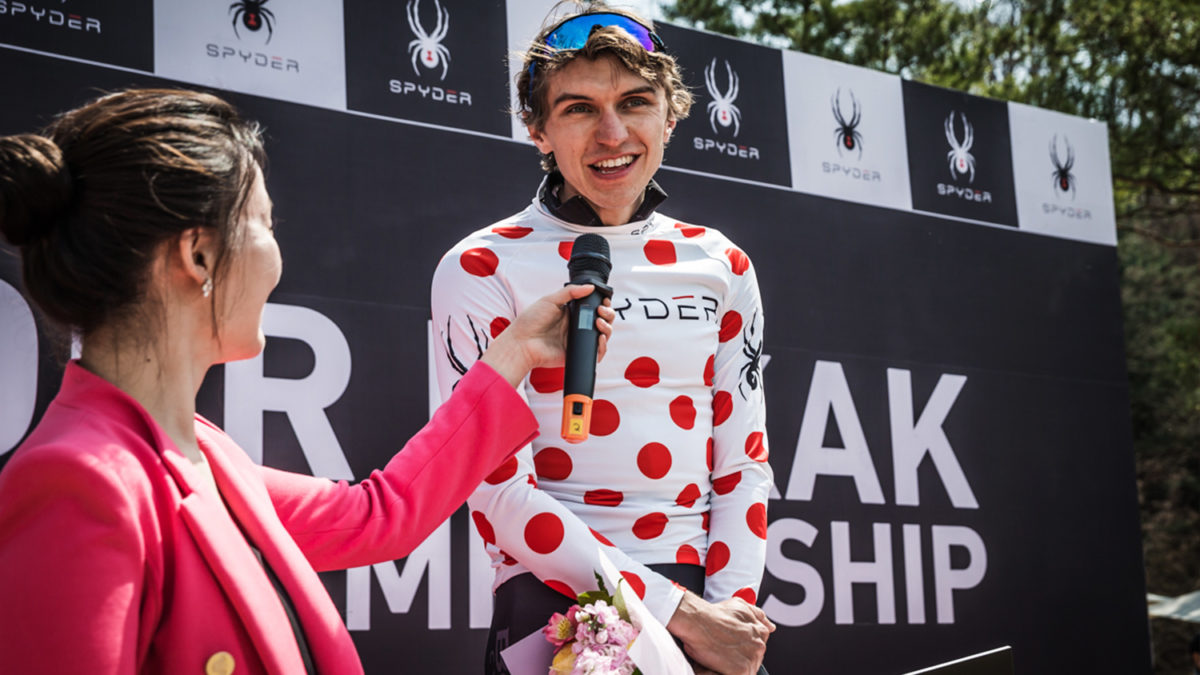 He then went on to win the final round by dominating the sprint, which was a sight very familiar from our collegiate racing days together..
Fun random fact: Derek, Chris, and I all used to race in the MWCCC (MidWest Collegiate cycling conference), and all used to race for the same US domestic elite team, RGF/Panther. Thought the team split into two teams when I joined, and we ended up as rivals rather than teammates.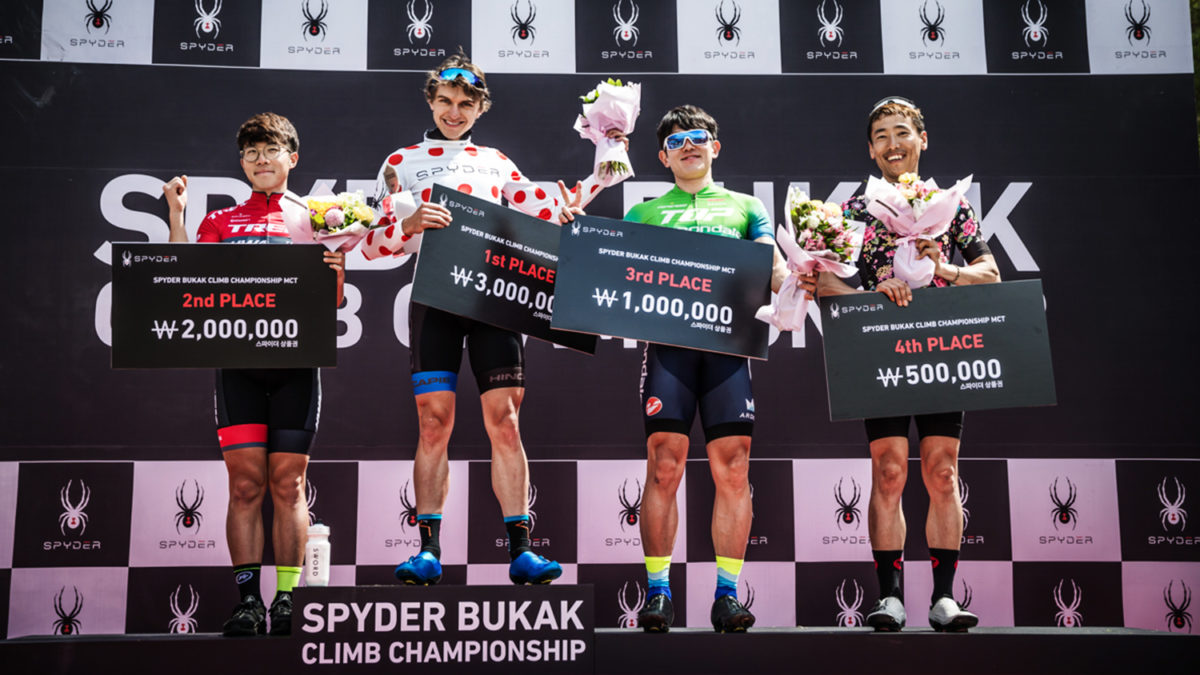 The SPYDER BUKAK race continued to impress with the level of quality of the awards ceremony. There was a proper awards stage, DJ, professional announcer, and even a KOM jersey for each race winner.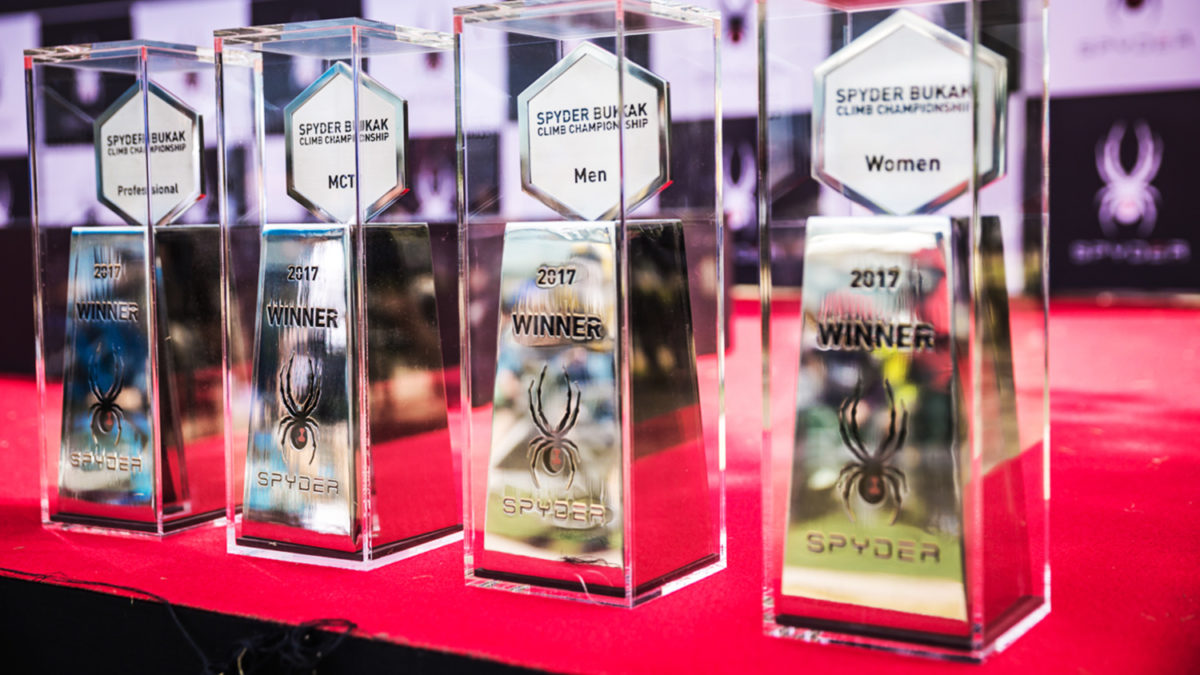 These trophies were also pretty massive and weighty. I think Chris had to check another bag on his flight just to get this home and add it to his trophy rack.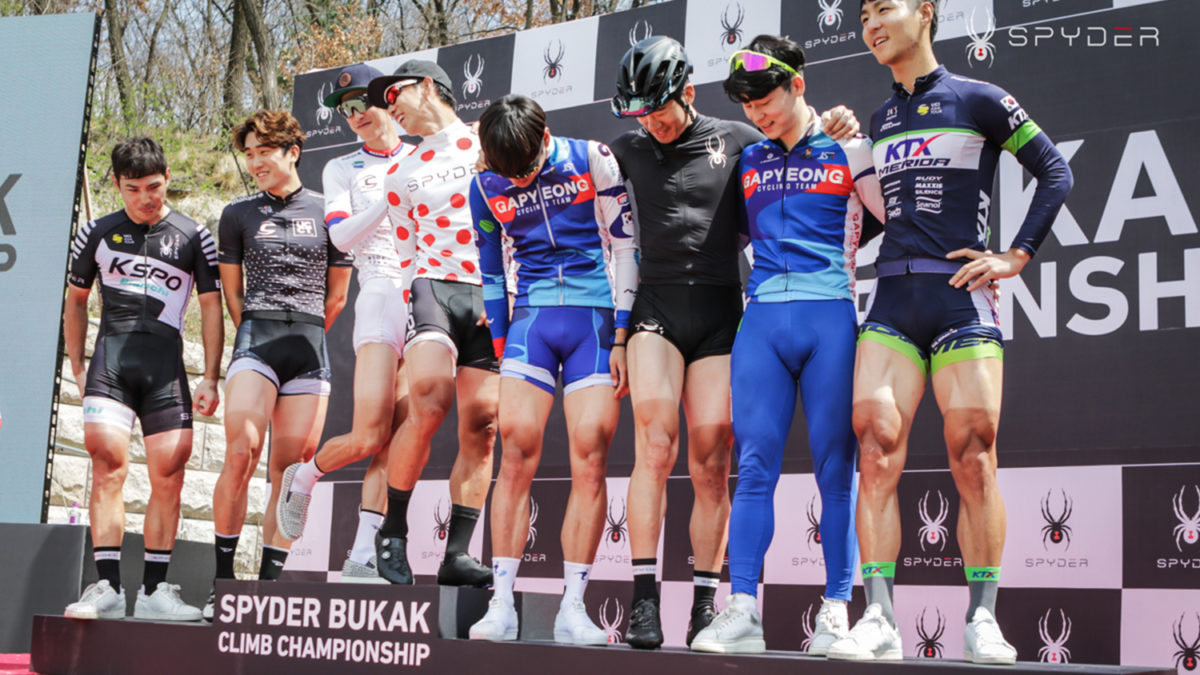 There was also a pro Men's division in today's race, but apparently the pro racing and amateur racing is completely segregated in Korea. If you're curious about why all of these professional cyclists are showing off their legs / cycling tans, be sure to watch the full day's video here:
SPYDER BUKAK CLIMB CHAMPIONSHIP 스파이더 북악 스카이웨
Race GoPro Footage
More information